Before you upgrade your furniture, replace floors or remodel a kitchen or bathroom, consider whether your lighting works. Lighting is a significant sign of design quality and one of the most affordable ways to refresh the look of your home. It sets a mood and helps define a style. Without it, important architectural details, artwork and focal points fall flat and go unnoticed. When done right, lighting functions as a carefully tuned orchestra, creating a pitch-perfect composition of light, layers, direction and flow.
If your lighting choreography consists of a single flip of the switch, then perhaps it's time to illuminate your mind.
Lighting placement, fixtures and functions are the three main ingredients to think about when giving your living space a light makeover. So if you're wondering if it's time for an update, ask yourself these questions.
Am I Lighting Unexpected Areas?

As you evaluate the status of your lighting style, keep in mind that lighting also functions as art that helps define your style, set the mood and perform practical tasks. Think of adding light in unexpected places, such as a chandelier in the master bathroom. And consider using light in unconventional ways — such as using hanging pendant lights as reading lamps.
Painting with light is another way to add surprise. Colored LED lighting underneath the kitchen island and cabinets creates dramatic appeal. Highlight the silhouette of a cabinet with under cabinet and in-cabinet lighting.
One can also use tape lighting to achieve a subtle illuminated line of sight.
Does My Lighting Have Layers?

A perfectly lit room has three basic layers: overhead lighting, task lighting and accent lighting. In the bedroom one can pull all these options together; with a chandelier overhead, bedside reading lamps as task lighting, and accent lights above the headboard. Think of the functional and decorative purpose of each light source.
Do My Lights Dim?

Good lighting should multitask and set the mood. A dimmer is an inexpensive and essential tool that puts you in control of the quality and quantity of light. With a home automation system you can install dimming controls for a single room or the entire house and control lighting though one smart device.
Think of lighting like a radio. You don't want to have just one volume. Lighting should have the opportunity to be task lighting and ambient lighting. Dimmers give the light multitasking capabilities.
To make the most of your lighting, install the highest wattage light bulb possible, then dim it down to accommodate the mood and lighting needs. Consider putting dimmers on both overhead lighting and lamp lighting.
As another bonus, dimming your lights 50 percent can save approximately 40 percent in electricity and increase the life of your bulb.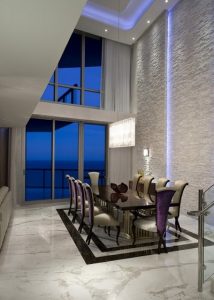 Are My Fixtures In Line With Current Style Trends?

One of the quickest ways to update the look of a living space is to swap decorative lighting fixtures for more up-to-date styles.
Use an attractive aye catching chandelier for the center of the ceiling. Keep the overhead light at 150 to 300 watts for optimum illumination. Mix and match your lighting fixtures. They don't have to be from the same lighting family or design.
Crystal remains a popular choice for lighting fixtures and is used across the style spectrum.
Lighting choices can also take cues from transitional style, defined by clean lines and lighter finishes. A trend in light fixtures right now is mixed metal, dulled gold, and foiled silver over gold. The finish is popular with the transitional style because it has an antique yet contemporary look.
Is My Lighting Focused?

Lighting design is all about the strategic placement of light and matching the perfect light source to its intended function. Indirect lighting pulls focus, adds texture and layers the sight line.
Pick focal points that you want to highlight, then direct a light source toward them. Wall lamps are great accent lighting fixtures to highlight artwork and bring light to a space at eye level.
A chandelier in the dining room should hang 30 to 36 inches above the dining table. The width of the chandelier should be at least one half the width of the table.
Recessed lights and track lights are ideal for low-voltage direct lighting.
Translucent glass shades on pendant fixtures will reduce glare in the kitchen. Hanging overhead lighting fixtures such as pendants should sit 30 to 36 inches above the island work surface.
So finally, when was the last time you upgraded the lighting of your home? Is it time perhaps?
https://www.platinumhouse.ae/wp-content/uploads/2019/03/Lighting-1.jpg
439
660
platinumhouse marketing
https://www.platinumhouse.ae/wp-content/uploads/2018/11/Short-White-Transparent-1500x720.png
platinumhouse marketing
2019-03-07 11:50:33
2019-03-07 11:50:33
5 Questions To Ask About Lighting Your Home