Febal Casa – Dubai's first showroom within the Platinum House Interior Design showroom.
Just like Gruppo Colombini, which opened his first store, Colombini Casa, in Dubai a few years ago, Febal Casa also rushes to conquer the United Arab Emirates, hoping to turn this new and dynamic market into one of the most important ones for the Group.
The watchword is Italian design. Innovative concepts and high quality are the true protagonists of the showroom, a 400 square meter exhibition space conceived and set up to offer a true experience of the furnishing of a house, with a touch of Italian lifestyle, but adapted to the needs of global consumers.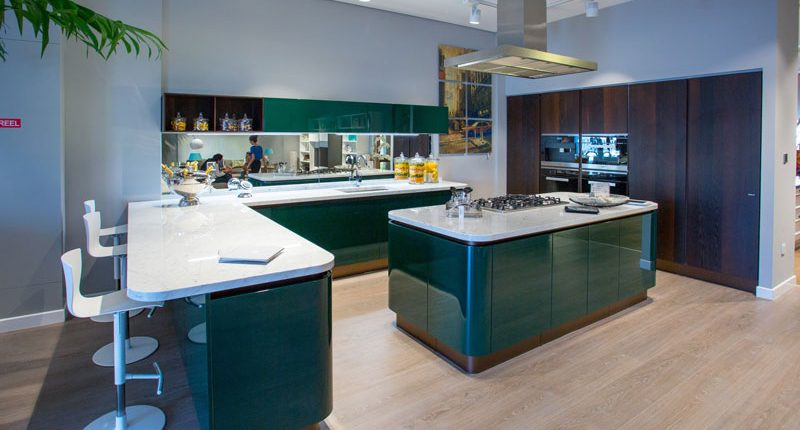 Italian design will play a key role but in an innovative way. This unique business occasion confirms the vocation for internationalisation of Febal Casa, a company looking at the future with an innovative approach, although firmly rooted in its values and history.
Primavera, Romantica, Chantal, Cherry are just some of the kitchen models by Febal Casa on display in our showroom, together with a wide and diversified technical area. These lines were conceived for dynamic, international consumers, open to new ideas and products. They were imagined for those who see the kitchen as the most important area of the house, a fireplace where family and friends meet and enjoy their time together.
Febal Casa knows how to best combine the great functionality at project level that is required by today's lifestyle, with an aesthetic taste that doesn't deny the past, on the contrary, it revives it by using natural materials, making it even better through its modern, exciting interpretation.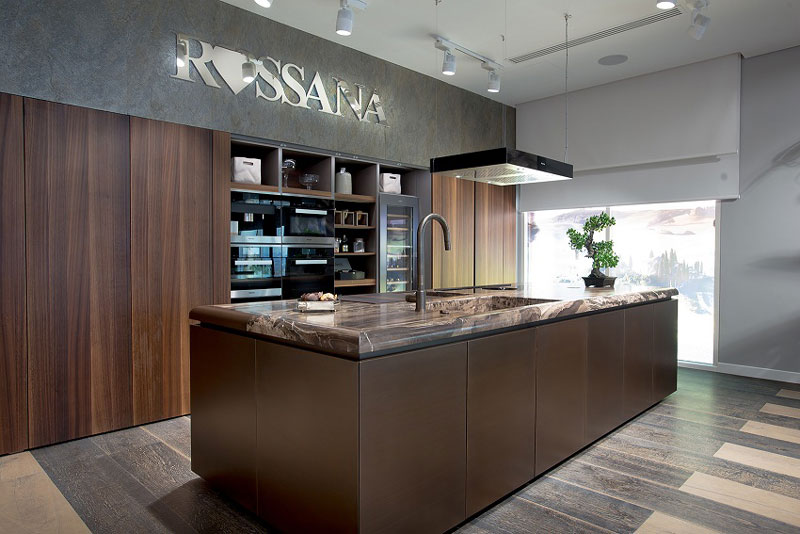 In order to offer consumers a broader taste of Gruppo Colombini's presence at an international level, Platinum House in Dubai showcases ROSSANA ISLAND, a corner dedicated to the brand, well represented by this "futurist" kitchen DC10. Burnished brass, wood and stone are the staple of this island-only Italian kitchen, featuring original volumetric design, and a "work table" that revives tradition, by offering a new interpretation of it.
From the very beginning we worked hard to help the brands Febal Casa and Rossana enter this new market – states Emanuel Colombini, CEO of the Gruppo Colombini – and today we can proudly affirm that we are a symbol of the Italian design the world appreciates so much. Febal Casa brand is now ready to achieve the success it deserves on international markets, and we will do our best to get to it as soon as possible. The right mix between tradition, design and attentive planning are at the basis of that qualitative-rational approach that has always distinguished Febal Casa, a brand that from now on will be well known and appreciated also in Dubai.
For more information about our Febal Casa Italian Kitchens in Dubai, please get download our Platinum House brochure:
https://www.platinumhouse.ae/wp-content/uploads/2016/09/luxury-living-dubai.jpg
534
800
https://www.platinumhouse.ae/wp-content/uploads/2018/11/Short-White-Transparent-1500x720.png
2016-11-10 17:05:48
2017-04-06 17:29:39
Febal Casa, Dubai's First Italian Kitchen Showroom