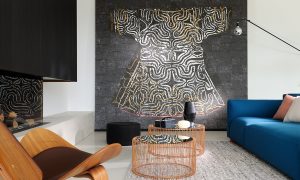 The new year is a great time to dress up a room with wallpaper or 'wall coverings', as they are known these days, since many aren't made from actual paper. It's a fun way to transform the look of a room without radically altering the space or investing in new furniture.
Not every room lends itself to wall coverings. Wallpaper looks best on a big square wall with nothing on it. When you start twisting and turning, it starts to look more homemade. It gives it a less finished look.
A lot of customers today opt to cover just a single accent wall where a beautiful wall covering stands out like art. This gives you all the drama and texture of wallpaper without the huge commitment.
Not every wall covering is right for every room. In a moist room, like a bathroom, it would be better to use vinyl or a plastic finish covering. If you're doing a hallway or a high-traffic area used by kids or pets, choose a flat, washable finish with a colored or patterned field that won't show fingerprints. Never apply wallpaper to a textured surface, it won't adhere.
At the end of the day you should take your time choosing a wall covering. Find something you truly love. If you find a paper you sort of like, you're going to sort of like it when it's up. And unlike paint, you can't just brush over it. It's a lot more tedious and costly to take down.
https://www.platinumhouse.ae/wp-content/uploads/2019/01/Bandeaux_PP_Parfums_Santal_1-1266x760.jpg
758
750
platinumhouse marketing
https://www.platinumhouse.ae/wp-content/uploads/2018/11/Short-White-Transparent-1500x720.png
platinumhouse marketing
2019-01-20 13:49:05
2019-01-31 13:54:56
Getting started with Wallpaper