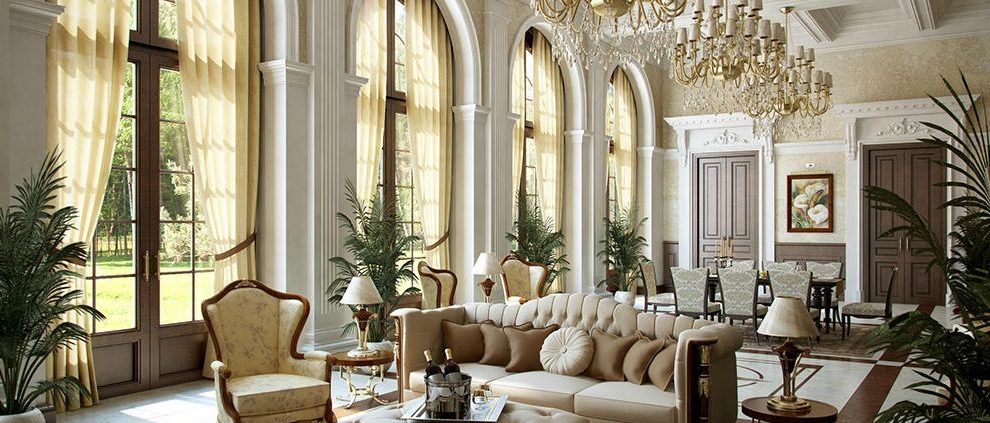 What does "luxury" mean? What style is best suited to your home and why should you personalise it? We identify the following reasons why you should choose to furnish your home with personalised luxury décor.
Many luxury furniture brands exist in the world and sorting through them is difficult, but it is even more difficult to create a unique and personalised style in your home. For many designers and architects the main challenge when designing the interiors of a luxury residence is that of selecting furniture which is not only luxurious, but also full of personality and reflects the tastes of their clients. If they do not succeed, then their clients may find themselves in a home that is extremely luxurious, but that lacks character. How does one avoid falling into this trap and why should one choose personalised luxury home décor?
Luxury Décor: What is changing?
Luxury is one of those ephemeral terms, like happiness, beauty, and style, that are rather difficult to explain and even more difficult to define. We often read and hear terms like "luxury lifestyle", "luxury design", and "luxury home", but what exactly do they mean? How is luxury interpreted these days and what has changed as compared to the past?
Years ago "luxury" may have meant gold faucets, marble-covered surfaces, and lavish accessories, but today furnishing a luxury home isn't so predictable. In examining how the perception of luxury has changed in recent years, here is a list of several guidelines to keep in mind.
Living a Designer Experience
In the past people tended to purchase tangible valuable objects to show off their wealth. These days people would rather purchase unique experiences that can be enjoyed in their private spaces, and luxury decor has adapted to this trend.
Purchasing Unique Objects
The current trend in luxury décor is that of purchasing from local artisans and small boutiques rather than from large brands. People want unique objects that no one else has. If you walk into a large store that sells luxury furniture, you will find the same pieces no matter what city you are in. How can an object be considered luxurious if anyone can purchase it? Luxury is, therefore, synonymous with rare and precious. It's no coincidence that vintage pieces have become so popular.
Decorating According to One's Tastes
Another change that has affected luxury décor is the fact that people are unlikely to be influenced by the styles and trends of the moment. They will not purchase a piece of furniture or a designer object just because it is extremely popular, but rather want their homes to be furnished and decorated according to their personal tastes and needs. In this sense, luxury has come to mean personalisation and functionality: from custom built furniture to lighting and outdoor spaces, everything must be characterised by the individuality of the people who live there and must perform a very specific function for them.
So Why Personalise Luxury Décor?
The Human Touch
An entirely handcrafted piece of furniture will never be perfectly symmetrical, but it is this kind of imperfection that makes it authentic. If you are working on a luxury design project, selecting furniture crafted by artisans, in keeping with the tastes and desires of your client, is a must. This, in turn, will make the home one-of-a-kind and will provide the human touch that is missing from mass produced furniture.
A Piece of Furniture is Forever
One of the undisputed advantages of personalising luxury décor is that of creating a unique style and environment that will last throughout the years and won't get redundant over time. A home that is furnished specifically for those who live in it is much less likely to end up boring its owners, who will be able to add or replace objects over the years without completely changing the décor. A style that reflects the tastes of the owner, not only in terms of the aesthetics but also in terms of the functionality of the various pieces, will be eternal.
Luxury Equals Comfort
Forget about homes bathed in gold and marble, which are tidy and symmetrical to the point of exhaustion. Luxury does not mean furniture that is unapproachable, uncomfortable, or that gets ruined at the slightest touch. Luxury décor has come to be synonymous with comfort. So please choose furniture that reflects the tastes and desires of the client, that is comfortable, and that makes the home feel welcoming.
Vintage is Beautiful
Not "old", but "vintage". It was personalisation, taken to the extreme in the luxury interior design sector, that helped open the door to furniture and objects with a story. Pieces that are unique because of the way that they have been used, the people who have, and the details of their manufacture. Such pieces have become extremely sought after and have come to be considered luxury items.
Client Satisfaction
Being able to reflect the tastes and expectations of a client in an interior design project is not easy. But a plus of personalised décor, created after careful study of the needs and requirements of the client, is his or her satisfaction. And of course nothing is better for building a positive reputation as an interior designer!
Appreciation of the Final Result
We live in a world of social media and there is nothing more rewarding than seeing your work being propagated and shared with the world. What could be more satisfying that receiving compliments and referrals from people who have viewed your previous works and are recommending it.
To Each Object Its Own Function
Personalisation also means combining aesthetics and functionality in a single object. It makes no sense to include a wine cellar in the spacial design when the owners are not connoisseurs of wine, or a studio or a gym in a home where no one will use them. We seek, therefore, to give each room and each piece of furniture a specific function.
Feel Like Home
A home must, first of all, be comfortable to those who live in it and to their loved ones. Personalising every tiny detail according to the chosen style will make the final effect more hospitable. Curtains, rugs, works of art, decorative objects, pillows, throws and so on; everything must be carefully considered in order to achieve the perfect result.
Be a Trendsetter
For an architect, an interior designer, or a decorator creating projects that stand out in the sector is fundamental. It is not easy to launch a new style or a new trend, but the more personalised your creations are, the greater chance you will have of being followed and imitated by the industry.
Astound Guests
When an interior design boasts unique pieces and has a well-defined character, your client will not only be able to relish the final result, but also astound his or her guests. This will give your design an extra edge and will increase the likelihood that other people come to you.
In Conclusion
Returning to our initial point, you now possess the tools you need in order to avoid coming up with a design that is aseptic and that lacks personality, as well as the lever for offering your clients a décor made up of brands that may be lesser known, but that are much more valuable, rare and personal.
https://www.platinumhouse.ae/wp-content/uploads/2019/05/Luxury-Home-Decor.jpg
710
990
platinumhouse marketing
https://www.platinumhouse.ae/wp-content/uploads/2018/11/Short-White-Transparent-1500x720.png
platinumhouse marketing
2019-05-26 10:04:37
2019-06-24 10:57:24
Why Choose Personalised Luxury Home Décor?